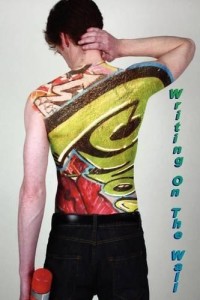 A second year University assignment was a commission based project, for a graffiti based book titled, Writing on the Wall. I had the opportunity to work with 3 NWK college media and english students, who were in the process of writing a book which featured a topic that was either a negative or positive to the local area of Dartford, Kent.
The initial part of the project involved a series of meetings and email exchanges with the students, during which the focus of the book was discussed (Graffiti). I had free reign in the type and overall look of images they were after for the text pages and was also made aware that they were sourcing cover images. The had a specific image idea for the covers – a person of either gender, with graffiti superimposed onto a part of their body.
Once we had agreed on the brief, I researched and listed local areas renowned for graffiti. I gathered a collection of images and edited them to grayscale images – as the text pages of the book were grayscale.
I also organised a shoot for the cover idea and was then able to 'Photoshop' several of my own graffiti images onto the model's skin.
---
Book details
Title: Writing on the Wall
Authors: Cassandra Conroy, Joseph Johnson, Paul Puttee
Format: Paperback | 54 pages
Dimensions: 152 x 229 x 2mm | 87g
Publication date: 30 Jun 2011
Publisher: NWK Media
Publication City/Country: Dartford, United Kingdom
Language: English
Illustrations note: Black & white illustrations
ISBN10 1907502122
ISBN13 9781907502125